Atacama Easter Island Tours in Chile
Includes transfers, tours & hotels – internal flights will be added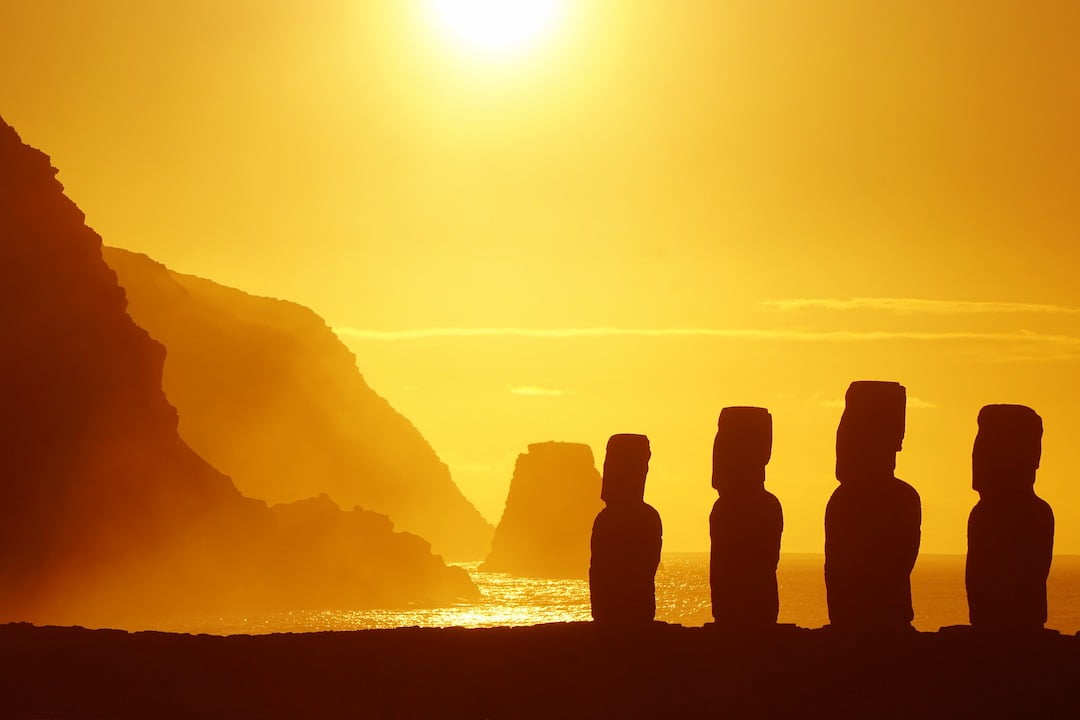 Sample Itinerary – Will Be Customized
On arrival into Santiago, Chile, we pick you up from the airport and take you to a comfortable hotel in the city center.
Today we'll bring you on a half-day city tour of this fabulous South American capital city. Or you can substitute that with a tour of nearby Valparaiso and/or the neighbouring wine regions instead – you choose!
Today we pick you up at your hotel in Santiago and take you to the airport for your flights to Calama and the unique Atacama desert – the driest on the planet. San Pedro is an unusual, colorful village of adobe houses located 8.000 ft above sea level. In the afternoon, we take you to the Moon Valley. The rock formations here make incredible shapes and colors especially around sunset. Return to your San Pedro hotel.
Spend your full day tour exploring the villages and landscapes of Atacama. Visit the Gustavo Le Paige Archaeological Museum, which houses a collection of 2,000-year-old Indian mummies and the narrow, adobe streets of San Pedro de Atacama. Then head out into the desert and remote, pre-Colombian villages of Tulor and Tocano. On the way, we take you to the huge Atacama Salt Lake, an inland sea formed millions of years ago and forming miles of white salt – a spectacular sight, surrounded by volcanoes and dotted with blue lakes that attract flamingos. Return to San Pedro.
Rise before dawn to drink your morning coffee at the world's highest geothermal field, and watch the steam from your cup rise along with the spurting fumaroles of the Tatio geysers. Continue through the dramatic, rocky scenery to the village of Machuca. This is a remote and beautiful mountain village which once was a stopping point for the Incas. Return to San Pedro for an optional evening of star gazing. Option! Continue over the Uyuni Salt Flats to Bolivia.
In the morning we pick you up and take you back to Calama for your flight back to Santiago. You can stay again in the city center or at the airport hotel.
Fly from Santiago to Easter Island. Arrive to the remote and mysterious island of Rapa Nui (Easter Island) in the morning. Transfer to your hotel where you can relax and enjoy the fabulous views of Easter Island.
Full day tour of Easter Island including the huge Moai heads at Rano Raraku Volcano
Full day tour of Easter Island including the stunning Rano Kau Volcano and some of the best places to see the natural vegetation of the island. Continue to the sacred village of Orongo. This dramatic spot was the site of the Birdman ceremonies. Find out all about the fascinating stories of Rapa Nui on your full day tour.
You might have the morning at leisure to explore a bit more, then we bring you back to the airport for your flight back to Santiago and Home.