Hi Max, Donovan and Isabel,
We just got home from the most fantastic well-organized trip! Thank you so very much for arranging the trip of a lifetime. Absolutely nothing went wrong and all of the people we dealt with in South America were wonderful. The drivers were prompt (usually early), the guides were interesting and taught us so much about the people, culture and history of their country. Some incredible memories will include galloping across the pampas in Argentina and snorkelling with sea turtles and hammerhead sharks in the Galapagos! The hotels were all lovely and in great locations with friendly staff. We really enjoyed the bike tours and their guides.
We started planning this trip with you in 2019 and we greatly appreciate your honesty, integrity and flexibility dealing with covid and political turmoil. We will be happy to recommend Ideal South America to all of our friends and will be contacting you when we plan to return to South America again.
With our deepest thanks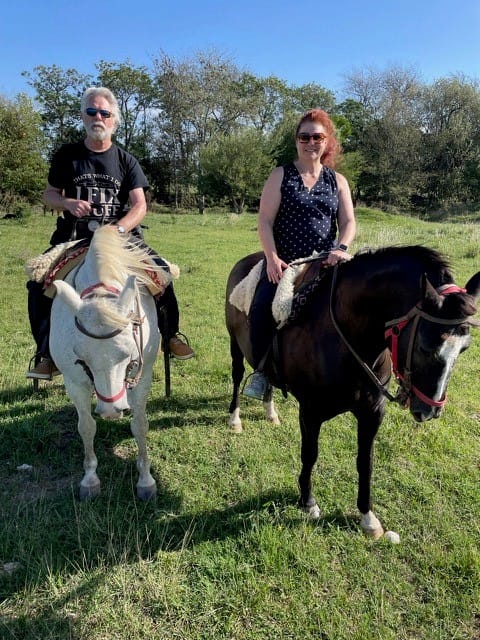 Andrea and Paul Jull
Chile, Argentina, Ecuador & Galapagos – March, April 2023
The trip of a lifetime, thanks to you.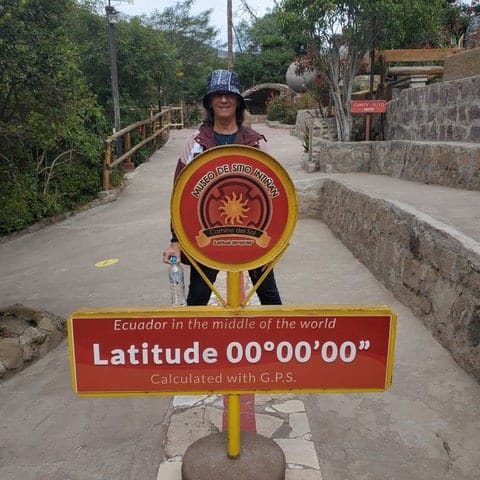 Cindy Casserly & Friends
Peru & Galapagos, April 2022
Yes, the trip went even better than great, it was fantastic! I posted most of the photos on Facebook and have already recommended your company, and you personally, to a number of friends and relatives, who saw the photos and asked about your firm.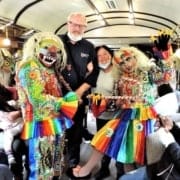 Eugene D. & Eugene G.
Galapagos & Peru, March 2022
Dear Max,
We've just returned from our dreamed trip to Peru, Chile and Argentina and we'd like to thank you for this literally perfectly planned and organised journey! The whole program was fulfilled to the least detail with no changes or delays, everywhere we were met on time by very friendly and interesting guides, all the places and tours were fantastic!!!
We had unforgettable 3 weeks in South America thanks to you!
Thank you! Thank you! Thank you! — Tanya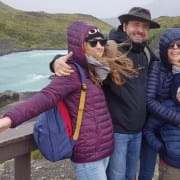 The Dimitrova Family
Argentina, Chile, Peru Jan. 2020
Dear Max,
Steve and I wanted to pass on our sincerest thanks to you and your team for arranging our wonderful Galápagos and Easter Island trip.
We can honestly say that everything, from being met at the airport in Quito, to the selection of boat trip through the islands to the tour of the Easter Islands was just wonderful.
We knew that we would enjoy the adventure regardless but your arrangements and selection of hotels, tours and guides even exceeded our expectations.
How you managed to arrange such perfect weather and the opportunity to see all the animals we hoped to see is beyond us but we are very grateful
I would be more than happy to recommend you and your teams excellent services anytime.
In the mean time, we are sending our best wishes for a happy and successful 2020.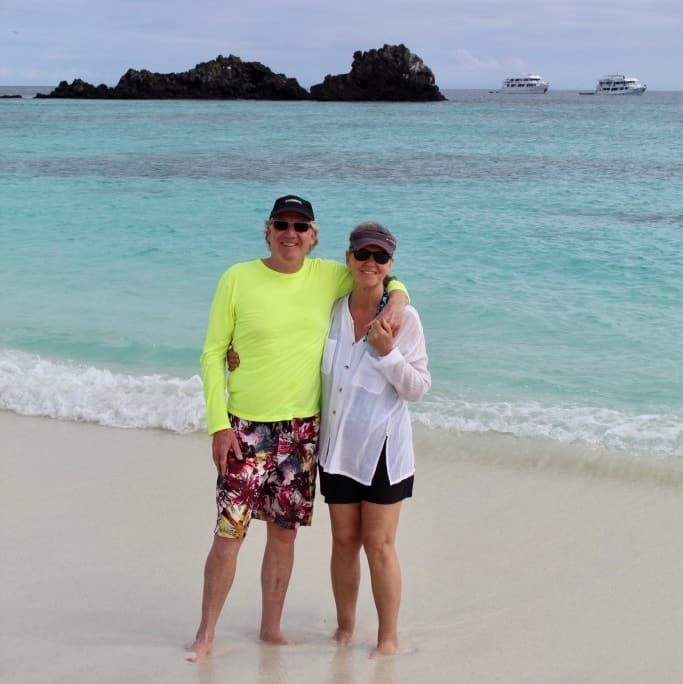 The Enhagens
Easter Island & the Galapagos, Dec. 2019
My wife and I picked Ideal South America to arrange a 21 day trip (October 20 – November 6, 2019) to Peru and the Galapagos Islands. From the first phone call it was obvious that this company is customer focused and detail oriented. The Peru leg of the trip included Lima, Sacred Valley, Machu Picchu, and Cuzco with guided tours in each location. The Galapagos leg included an 8 day cruise visiting numerous sites on 8 different islands with guided walking tours and snorkeling. All the guides were on time, extremely knowledgeable, spoke English, and anxious to address customer needs. Drivers providing transportation between airports, trains, and hotels were always on time and waiting for us when we arrived. Our 8 day cruise in the Galapagos was on a smaller boat with only 16 passengers and an out-of-this-world guide. We loved the intimacy of the smaller boat and fewer passengers. The entire trip went off without a single hitch and I would not hesitate to recommend using their services to anyone going to South America.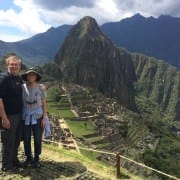 The Jacksons
Peru and the Galapagos Islands, Nov. 2019
We had a fantastic trip!! Our guides were awesome! The Amazon cruise was so nice and loved that there was only about 60 people on board and each had a balcony room. Food was great. We loved that we had a private tour guide in Iguazu and Rio. The excursions were fantastic! I have recommended it to all my family and friends already! Will definitely be looking at some of your other tours in other countries for the future!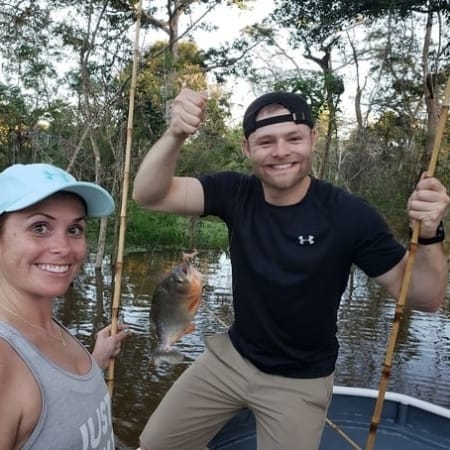 Evans Family
Excellent trip to Galapagos Islands and Machu Picchu! We enjoyed the sights and guides were very good. We now know a lot more about tortoises, blue footed boobies, sealions, iguanas, etc. The M/C Cormorant was very nice and there was a good group of people, guests and crew. Opportunity for snorkeling present. Quito, Sacred Valley, Pisac, Ollantaytambo, Cusco, Inca temples, and, of course Machu Picchu were all great. A religious parade in Chinchero was most interesting.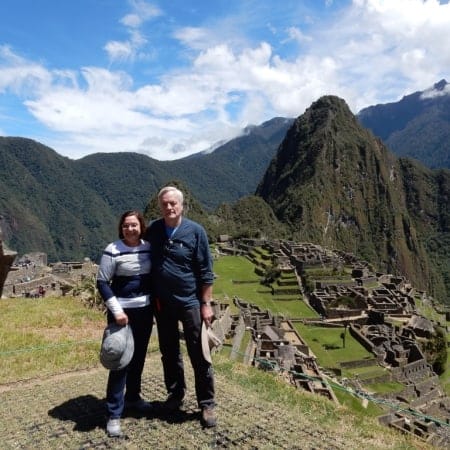 Erik & Lone Christensen
Galapagos & Peru, March 2019
I cannot thank you enough for facilitating the amazing trip to Peru that my sister Annie and I took last week. It was wonderful to NOT have to worry about coping with any details, since Ideal South America had taken care of all of those. The trip had enough structure that we didn't feel like we were floundering, but we also had the freedom to come and go as we wished. I also want to praise our local guide, Bryan, and our sweet driver, Daquis (?). Both were kind, punctual, and completely professional. My suitcase got left at LAX for five days, and Bryan was very helpful in communicating to the airlines on my behalf. This is not my last trip to South America, that's for sure, and I will be in touch with Ideal South America in the future! Thank you, thank you.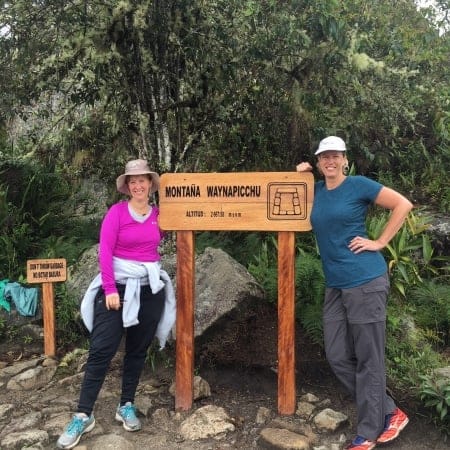 The Roddas (Annie & Katie)
Max and Ideal South America arranged a special trip for my adult children, their spouses and I which included the Sacred Valley, Machu Picchu and Cusco. Our guide, of Incan heritage, was knowledgeable and prepared, and our driver was the best. Our accommodations were gorgeous. A seamless experience. You will not be disappointed with their services.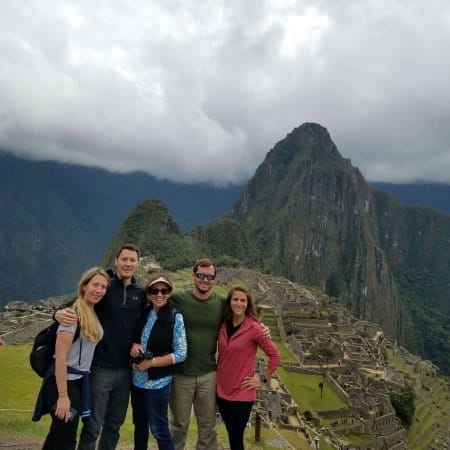 The Winters et. al.
Peru-Machu Picchu, July 2018
First, we had a wonderful time and the trip was fun and interesting. We managed not to get sick and did not have any altitude problems. Since you never met us, I will remind you that we are not exactly youngsters, as Judy is in her 70's and I am 80 next week. Each of the steps in the trip went according to your careful plans. We had only one small glitch, which was easily reversed when Noe, our greeter in Lima, missed us (and we did not see him) at the airport exit, but he came over to the hotel after we asked the Wyndham concierge to call the travel company. All the other "hand-offs" were on time and waiting for our arrival. Neither we nor our luggage got lost.
The accommodations provided were very nice. The Nemo III catamaran in the Galapagos was a nice boat, and we were with compatible fellow travelers. Only two small complaints here. The boat, in order to make the island-hopping schedule, didn't sail, but motored. A slight disappointment. The food on the boat was not to our liking, but it was a cruise, not a restaurant. The Galapagos islands were what we expected. Our guide, Alexi, was very knowledgeable and gave us a good understanding about the islands and the wild-life there. The views and the ocean and the birds, fish and sea lions and tortoises, and the lava fields were all magnificent.
In Peru the country was very different from where we live: on the ocean in Massachusetts. The Incan culture and Machu Picchu and the Andes mountains were astounding. The various guides were excellent. The views and the history were great.
On the whole we were very satisfied with the entire trip. We would give you and your help an A+ rating. We would certainly recommend your service/company to any of our friends seeking a similar South American trip. I have attached a couple of photos. Thanks again.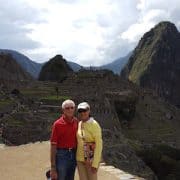 Alan Diamond and Judy Goldberg
Peru & Ecuador – September 2016
Donovan …
First I would like to say that Susan and I were very pleased with our recent vacation to Peru and Ecuador, which was planned and executed by Max and Isabel at Ideal South America. The planning and options phase by Max was very thorough and easy to work through … and most importantly the end result was very rewarding.
We have had the opportunity to travel around the world, and I prefer finding a locally based travel agent with feet on the ground and long-time success with a proven
track record. Ideal South America fit that bill. It is always a bit worrisome to pay a good sum of money and put your faith in an organization, when you do not truly know how the trip will
turn out in the end. Attention to detail, a stable of excellent on-the-ground partners to provide the services, such as we had both in Peru and Ecuador, are obviously critical to providing a
top-notch vacation.
Again, from the detailed trip information to the first airport pick-up, all the venues and adventures, the guides … everything worked out very nicely and that is much appreciated.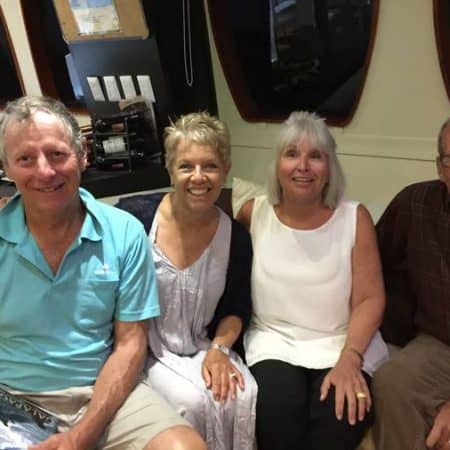 Les G. et. al.
Ecuador & Peru – May 2017
We had a very nice vacation and enjoyed all the places that we visited. The hotel in Calafate was quite far from town so I would not recommend it for someone who is not able to walk far.
The hotels in Buenos Aires, Salta, Mendoza and Iguazu were good. The hotel in Purmamarca was different. The three nights there were too many. It would have been fine to spend two nights there but it is a very small town and we were able to do the hiking around the mountains the first full day there so there really wasn't anything to do the last day there. The Finca La Azul was quite nice but again we were far from everything. Again it seemed that 2 nights there without a car were too many. One night would suffice.
All the sights that we saw were amazing and we thoroughly enjoyed them. The guides and drivers were super friendly and helpful. They were knowledgeable and informative. We thank you for all that you did to make this trip carefree.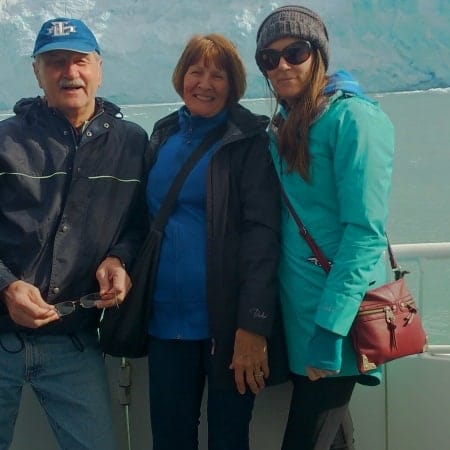 The Feric Family
Thank you for the most incredible 2 weeks! I have to say, it was rather flawless. We couldn't believe you arranged for such great weather, the best guides, wonderful hotels, and such an incredible yacht.
Everyone we came in touch with from your organization was on task and incredibly professional. A well-oiled machine. A few family pic's attached for you.
Where should we go next?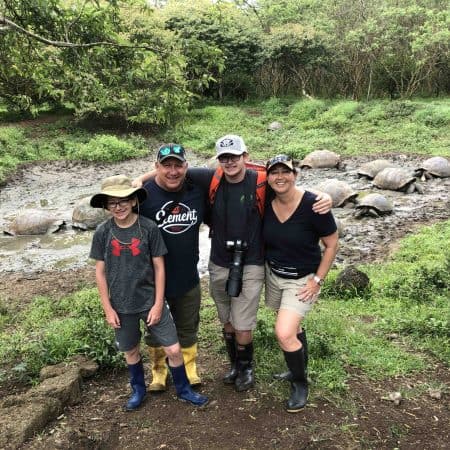 Katz family
Peru & Ecuador, December 2017
Hey Donovan – the overall trip exceeded our expectations. We would definitely recommend the trip, even though it was a bit expensive for our friends, especially with the canadian dollar so low.
Thanks for putting it together for us.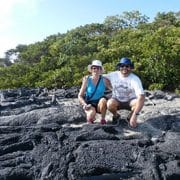 Brian S.
Peru & Galapagos – Nov. 2015
HI Max and Donovan,
I would like to thank you for a lovely Trip. The Coral staff did an awesome job making our vacation spectacular.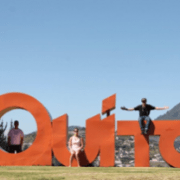 The Dietrichs
Ecuador & Galapagos, Dec. 2015, Jan. 2016
Hi Max,
I can't tell you pleased we were with what you arranged for us. We, I had a great time and the fact that it was so well arranged and every stop, really was a great plus! I didn't have t worry about a thing, starting out right from the beginning. It really made traveling in Peru and Ecuador a pleasure. We enjoyed the hotels, the upgrade in Puno was the least favorite (only because they changed for internet and offered no bottled water (as the other did – something so simple, means a lot to travelers), the people that met us and the experience in Galapagos was great. The food on the boat was average, but the guide and staff really made it a great/special time.
Walter in Machu Picchu was really great and went out of his way to make it a wonderful adventure. I forget all the people, but they'll together set our mind at ease in the various stops we made. The train was great, Andean Explorer, long, but great experience beautiful country to see!
Thats again, I will certainly recommend this agency to all that ask!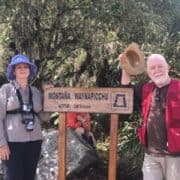 Dave A.
Peru & Galapagos – May 2016
Max,
Just wanted to touch base and you let know how great our trip went. Other than AA losing Jill's bag (which caused a bit of anxiety), all went perfectly! Our guides, Israel in Machu Picchu and Pablo in the Galapagos, were incredibly knowledgeable and enjoyable to spend the day with. The hotels you chose were just as great. The food in Peru was as good as everyone said. All in all, I was impressed well beyond my expectations on how enjoyable, educational and adventurous this entire trip was. Even with the baggage glitch, our contact (Ronaldo) in Cusco did everything possible to help locate the lost bag and bridge the language barrier while talking to airport people. So, thank you for all your effort with creating this trip for us!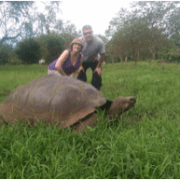 Darin Petersen
Peru & Galapagos, Jan. 2016
Hi Donovan the trip through Costa Rica was fabulous. Once again you did an outstanding job giving us a trip to remember. Our guide, Charlie (Carlos) was amazing.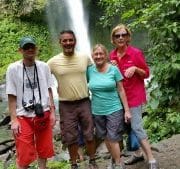 Linda O.
I had contracted with Ideal South America (ISA), after checking with eleven other travel agencies. If you plan on a trip to South America I heartily recommend that you check with ISA, because they are a top quality firm.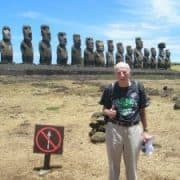 Col. Ed Scholl
Easter Island, Peru & Galapagos, Feb. 2014