Machu Picchu, Iguazu Falls and Rio Tour
Includes transfers, tours & hotels – internal flights will be added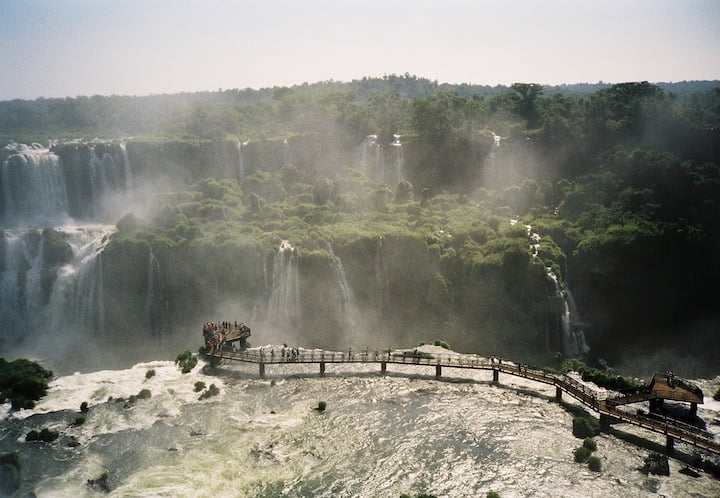 Sample Itinerary – Will Be Customized
After a long international flight, we'll meet you at the airport in Lima and take you to your hotel – either at the airport (if flying to Cusco next day) or in central Miraflores (if staying in Lima).
We recommend adding a day to see Lima and decompress from your international flight. Choose from a city tour including visits to its grand colonial plaza, catacomb-filled churches, and pre-Colombian museums, a market visit and cooking class, or visit a traditional fishing village.
But you can also head straight up to Cusco on this day. You would fly from Lima over the Andes to arrive at the Inca capital of Cusco – 11,000 feet above sea level. Upon arrival, we'll pick you up and take you to stay in the Sacred Valley, located at a lower and more manageable altitude to acclimatize. If there's time, we'll stop by the town and markets at Chincheros, before arriving at your hotel.
Today we'll bring on a tour of the Sacred Valley of the Incas, accompanied by a professional, English-speaking guide. You'll have the chance to visit the markets at Pisac – the most famous in the Valley – with wares from local vendors, and if there's time, the ruins above the town. With a lunch break included, you'll also visit the village and ruins of Ollantaytambo – a special Inca fortress with a unique history … and the departing point for trains to Machu Picchu.
Today you'll catch a train to Machu Picchu town, where your guide awaits to bring you on the bus up to the entrance of the incredible Inca citadel. These are not just ruins – it's a city – a staggering archeological and engineering masterpiece! After an expertly guided tour, you should have some time to enjoy if further at your leisure – walking to the Inca Bridge or the Sun Gate, taking more photos, or simply sitting in quiet contemplation. In the afternoon, you'll catch a train back to Cusco.

Option: You can choose to spend an extra night in Machu Picchu town, visiting Machu Picchu again the following day and climb the ubiquitous peak of Huayna Picchu.
Today you can join a small group for a tour of Cusco – the ancient center of the Inca universe. The Cusco cathedral and central Plaza de Armas are special in their own right. And the visits to the Q'oricancha (Temple of the Sun) and Sacsayhuaman make it even more worthwhile.
Today we will bring you to the airport for your flights to Iguazu, via Lima. Arriving on the Brazil side, you might need a visa. We'll meet you there and bring you to your hotel.
Today we'll bring you over to the Argentinian side of Iguazu Falls. Here the walkways allow you to get quite close to this amazing complex of Falls, where you can experience its thunderous power firsthand and close-up – at your own pace. Exotic birds, rainbows, and butterflies will hover around you as you step out onto a catwalk that extends 1,200 yards over the so-called Devil's Gorge—if you dare.
Today we'll bring you to the Brazil side of the Falls for a half-day tour, where in addition to experiencing some walkways again, you'll have a more panoramic view of the Falls. Then in the afternoon we'll take you the airport for your flights to incredible Rio.
Here you can have a full-day tour of Brazil's "city of marvels," from its hilltop Christ the Redeemer and spectacular Sugar Loaf mountain, to the sizzling beaches of Copacabana and Ipanema.
After dark, you can groove to its samba-fueled nightlife or sway to the mellow sounds of bossa nova.
For your final day, you're free to wander Rio at your leisure. Experience sailing, surfing, hang-gliding, and some of the most glorious people-watching on the planet as the warm, life-loving carioca spirit infects you. Then we'll take you to the airport to catch your flight home.

All our trips are customized and can depart on any day. Contact us for your personalized tour program.
Machu Picchu, Iguazu Falls & Rio de Janeiro Tours
Sun and mist, parrots and condors, bright tropical bays and mysterious Andean cloud forests: Brazil and Peru stand at two extremes of a continent known for its exotic beauty. You'll experience both on this journey to some of Earth's greatest wonders.
Imagine a land of towering stone citadels and waterfalls as tall as skyscrapers. Of pulsating modern cities and silent pre-Colombian ruins. With us as your guide, you'll immerse your senses in the sights and sounds, legends and history of these two earthly paradises.
Best of all, whether you're scaling the peaks of Machu Picchu or riding a cable car up the hills surrounding Rio, you'll have our expert guides alongside, helping you live your odyssey to the fullest.