Costa Rica Vacation 10 Days
Includes transfers, tours & hotels – internal flights will be added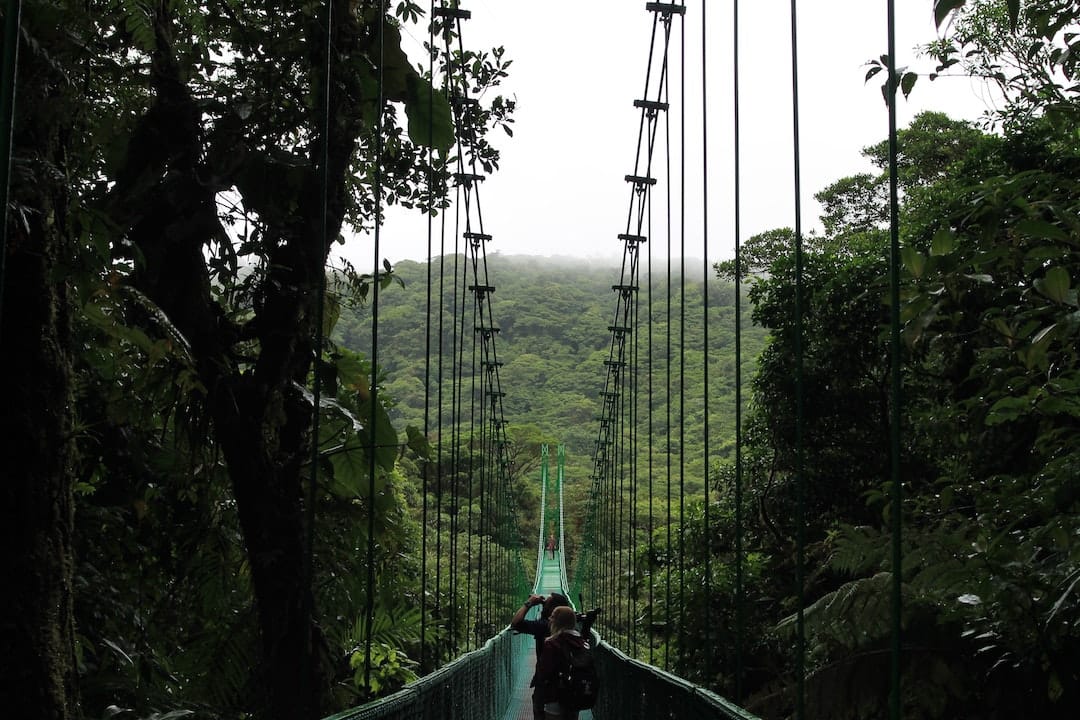 Sample Itinerary – Will Be Customized
On arrival in San Jose, we will pick you up and take you to a quiet hotel located just outside the city center. In the flower filled gardens it is easy to spot hummingbirds, there are also full sports facilities. A great place to relax after your international flight.
We take you on a full day guided tour to Poas Volcano. Poas is one of the largest and most active volcanoes in Cosat Rica. The fumaroles create piles of smoke from one turquoise crater lake. The other Botas Lake is surrounded by beautiful cloud forest. On this trip you will aslo visit a coffee plantation, the handicraft centre of Sarchi and the pretty village of Gracia. Return to your hotel outside of San Jose.
An early start for your transfer from San Jose to the canals of Tortuguero National Park, by coach and motor-boat via banana plantations and lush forests. This afternoon wildlife excursions with your lodge around Tortuguero. This evening if you are lucky you will have the opportunity to witness the Green sea turtles nesting on the beach (between July-Sept only) Stay in a beautiful lodge with extensive gardens fronting the canals.
We take you on a tour through the canals of Tortuguero and, in season, enjoy a night visit to see turtle hatching along the beach. Tortuguero National Park is a place of narrow canals through thick forest, fronted by beaches and the nesting ground of Altlantic Sea Turtles. Only acessible by boat and air, the area is full of wildlife and on a tour through the canals you are likely to see three species of monkeys, sloths, seven species of river turtle, Spectacled Caiman and River Otters.
Stay in your Saprapiqui Eco-lodge, a short walk away from the excellent wildlife watching at Tirimbima Biological Reserve, and Siripiqui River Rafting. This area is a center of scientific investigation because of the prevalence of endangered species such as the Great Green Macaw.
Travel to Arenal National Park; home to 16 protected reserves, the smoking Arenal Volcano and abundant wildlife. Your hotel has its own hot springs and gardens. Arenal Volcano has been constantly active since it woke up after 400 years. One of the world's most active volcanoes, Arenal produces huge ash columns, explosions and glowing red lava almost every day, bt night time is when you can see the most spectacular vies of fiery lava.
There are plenty of activities in the Arenal area, so take your pick of activity such as a hike in Caño Negro Wildlife Refuge, Tour To the Arenal Volcano and Tabacón Resort Hot Springs, Sport Fishing in the Arenal Lake, Arenal Volcano Hike Tour, Mountain Biking, Venado Caves Tour or horseback riding to Arenal Volcano
Green forest descending to beautiful white sandy beaches makes Manuel Antonio the perfect beach getaway. Travel to the small town of Quepos on the edge of the National Parkand stay in a garden villa on the edge of town.
This beautiful park features mangroves, a lagoon, beautiful beaches and winding parks. Explore the park and its trails amongst monkeys, sloths and tropical birds; or spend the day relaxing on the beach.
This morning we will take you back to San Jose for your flight home.