Ecuador Tour
Includes transfers, tours & hotels – internal flights will be added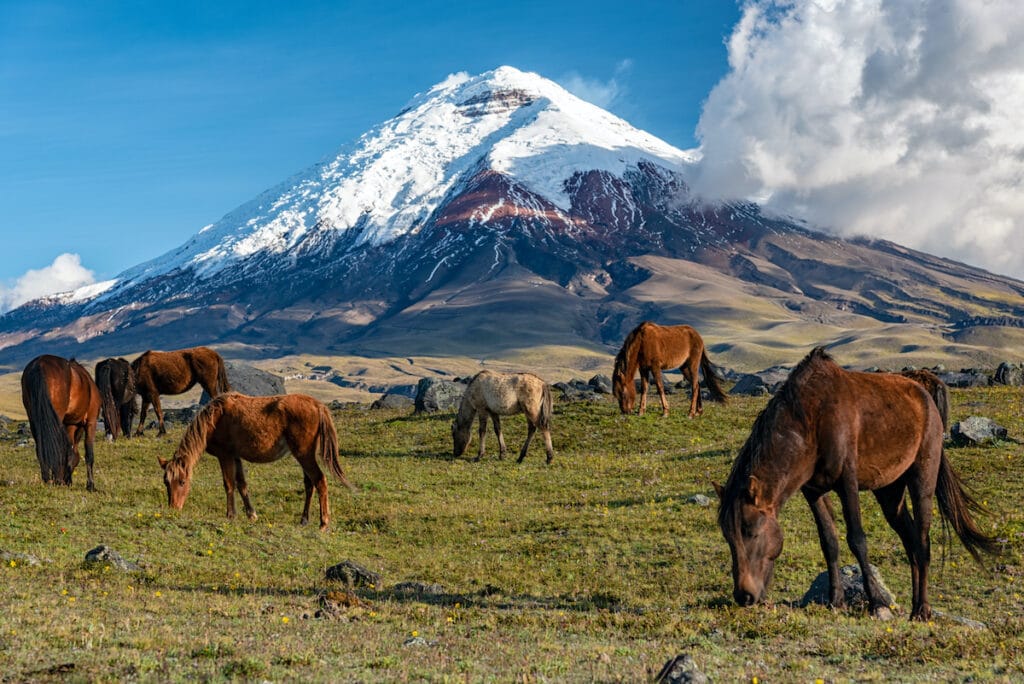 Sample Itinerary – Will Be Customized
Upon arrival of your international flight to Quito, Ecuador – we transfer you from the airport and take you to your safe hotel in the city center. Marvel at the UNESCO World Heritage city of Quito, amidst the high volcanoes of the Andes.
Quito was the first city in the world dubbed a World Heritage city by UNESCO. You will see it in all its colonial splendor – San Francisco Square, the Cathedral and the 150 foot tower at La Merced. Then it´s on to the Middle of the World Monument, where you will literally straddle the equator. The tower marking the spot has an interesting cultural museum. Then it´s back to rest at your hotel or walk around the Mariscal in the evening – full of the city´s best bars and restaurants.

Option! Add an overnight stay in a beautiful Mindo Cloudforest Lodge – a area rich in birdlife, butterflies and orchids. Or visit the world-famous Otavalo Indigenous markets!
In the morning head out of Quito to Cotopaxi National Park and location of the highest active volcano in the world. As you get closer you will better appreciate this snow-capped beauty. In the National Park you will be see a wide diversity of flora and fauna, such as wild horses and high altitude birds. Enjoy lunch in a traditional hacienda – complete with original Inca walls. Stay the night in a restored hacienda amidst stunning scenery.
Continue through the volcanoes of Ecuador to the lower altitudes of the town of Banos. The name – meaning baths – comes from the numerous hot springs here. Banos has become the outdoor center of Ecuador with numerous hiking and biking possibilities. Visit the area´s spectacular waterfalls and take a look at the Tunguragua, the active volcano towering above the town. In the afternoon, continue through spectacular scenery to Riobamba, with views of Chimborazo: Ecuador´s highest peak.
After breakfast travel to Alausi to board the Devil´s Nose Train Ride. Building this train ride through the mountains was an imense engineering feat. Your short train journey takes you along on of the most difficult sections in a series of steep switchbacks. After lunch, we take you on a tour of the Inca site of Ingapirca – the largest such site in Ecuador. Continue through the mountains to the colonial city of Cuenca.
Cuenca has a historic colonial center, plenty of green river banks and colorful markets, along with a quiet, relaxed atmosphere. We take you on a tour of the pretty main squares and museums including a visit to the Panama Hat Factory. Yes, Panama Hats are actually from Ecuador! Many in Cuenca.

Option! Continue from Cuenca to Guayaquil, to stay the night before a Galapagos Islands Cruise.
In the evening, fly back to Quito for an additional night or for your flight home.