Belize Tours
Includes transfers, tours & hotels – internal flights will be added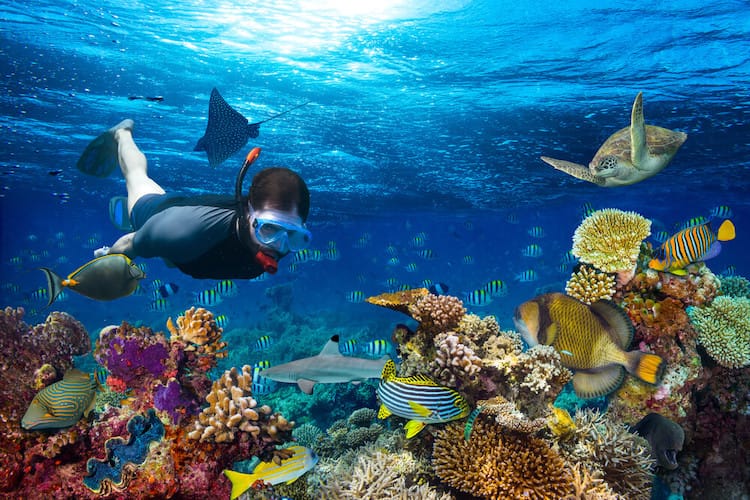 Sample Itinerary – Will Be Customized
On arrival in Belize, we will pick you up at the airport and take you straight to your resort – by the seaside or a jungle lodge – safe, comfortable and away from it all.
Today we'll bring you on a tour of Belize's most emblematic and important Mayan temple areas – Caracol. The largest Maya City in Belize features "Canaa" the highest structure in the country. It is located about 25 miles south of the town of San Ignacio in the foothills of the Maya Mountains within the Chiquibul Forest Reserve, in western Belize.
Today we'll bring you on a tour of the ancient Maya city of Xunantunich to view original carved monuments depicting Maya rulers and warriors in their full regalia and journey 130 feet to the top of "El Castillo" to capture a panoramic view of the Belize River Valley. Then continue to Barton Creek Cave, in Amish territory. Gently paddle your canoe into Xibalba (she-bal-ba), Maya for underworld. You will be dazzled by the glistening crystalline formations and awed by the Maya artefacts secretly tucked away in overhead alcoves.
Today we bring you to the airport for your flight to San Pedro, for the next part of your Belize adventure. This area boasts the largest barrier reef in the northern hemisphere! We'll meet you at the arrival airport and bring you to your tropical paradise resort, to enjoy your welcome drink and relax in the fabulous facilities.
A snorkel adventure awaits you at Hol Chan Marine Reserve (Maya for "Little Channel"), the first marine reserve established in Central America. Explore the coral reefs as you swim amongst the abundant marine life. Then it's off to second snorkel stop, Shark Ray Alley. Here you will encounter friendly stingrays, inquisitive brown nurse sharks, turtles, as well as an abundance of colorful reef fish, including snappers and jacks.
Today we recommend a snorkeling or diving tour of the unique Blue Hole – an underwater limestone cave, like a sinkhole, was made famous many years ago by Jacques Cousteau. There's nowhere else like it in the world … and you might even see some whale sharks.
Today we bring you back to the airport in Belize City for your flight home … an unforgettable trip!
Belize
Although Belize is a small country, roughly the size of New Hampshire, USA, it is rich with diversity. From Mayan ruins, caves and jungle adventures, to world-class snorkeling & scuba diving, beaches and island exploration, it truly has something for everyone. Relatively "undiscovered" compared to its more famous Central American neighbors, the unspoiled sites offer once-in-a-lifetime experiences, interactions with friendly locals and an ease of travel. Indeed, with English as its official language and direct flights from the US & Canada, it's an easy choice for folks looking for an amazing vacation without the hassle. No wonder it has been featured on many "Best Of" travel lists in recent years!