Iguazu Falls are waterfalls of the Iguazu River on the border of the Argentine province of Misiones and the Brazilian state of Paraná. When translated into English, the word Iguazu roughly means 'big water'. Iguazu Falls was formed as the result of a volcanic eruption, which left a large crack in the earth's surface.
Iguazu Falls was designated a UNESCO World Heritage Site in 1984 and declared one of the New Seven Wonders of Nature in 2011. The falls divide the river into the upper and lower Iguazu. Some of the individual falls can reach 82 meters (269 ft) in height, though the majority are about 64 meters (210 ft).
Swifts flying around the Devil's Throat
The actual number of waterfalls fluctuates depending on the water level and how much water is flowing. The number ranges from 150 to 300 falls at any given time. There are a species of birds called Great Dusky Swifts that often nest behind the falls. You can see them easily plunging right into, through and around the falls. There are approximately 2000 plant species in the rain forests around Iguazu Falls.
The Devil's Throat (Garganta del Diablo in Spanish or Garganta do Diabo in Portuguese), a U-shaped, 82 meters high (269 ft), 150 meters (490 feet) wide and 700 meters (2,300 feet) long cataract, is the most impressive of all, and marks the border between Argentina and Brazil. Two thirds of the falls are within Argentine territory. The mist that rises from the falls at Devil's Throat reaches up to 150 meters (490 feet) at times.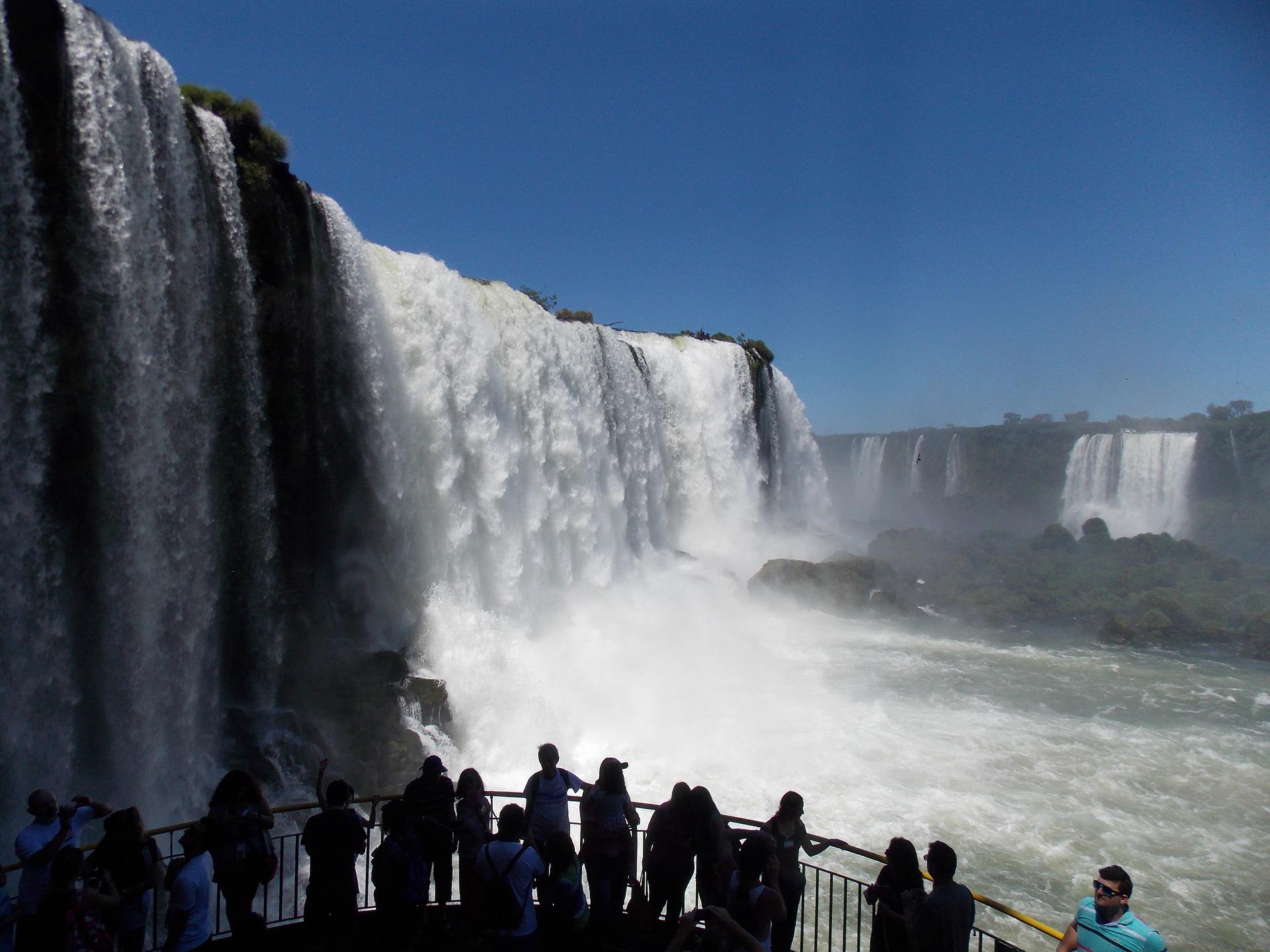 Spring and Fall are best times to visit Iguazu Falls
In the winter the water levels are at their lowest, and in the summer it is extremely humid and hot, which makes the spring and fall the best times to visit. November to March is the rainy season. At times there is as much as 450,000 cubic feet per second flowing over Iguazu Falls. Iguazu currently has the sixth-greatest average annual flow of any waterfall in the world, following Niagara, with an average rate of 1,746 m3/s (61,660 cu ft/s).
Iguazu Falls is taller and twice as wide as Niagara Falls. Eleanor Roosevelt, former President Franklin D. Roosevelt's wife visited the falls. She exclaimed, "Poor Niagara,' when she first laid eyes on Iguazu Falls.
HOW TO GET TO IGUAZU
Most travelers will fly to Iguazu, from either Argentina (Buenos Aires) or Brazil (Rio or Sao Paolo). Both countries have their own respective airports and towns with hotels near Iguazu Falls (Puerto Iguazu – Argentina; Foz de Iguazu – Brazil).
There are also non-stop direct flights between Lima, Peru and Foz de Iguazu airport (IGU), on the Brazil side. Those are quite handy for linking-up with a tour including a visit to Machu Picchu et. al. Peru – before or after.
Depending on your nationality, a visa or reciprocity fee might be required to visit Brazil and Argentina – even if you are just crossing over the border at Iguazu to visit the "other" side of the Falls … for one day!
WHAT TOURS OF IGUAZU FALLS LOOK LIKE
Most people take tours of Iguazu for three days and two nights, staying at a hotel on either the Brazil or Argentinian side. So yes, that means you will usually cross the border at least once during your visit – for the tour of the "other" side of the Falls. Of interesting note, both sides have a hotel actually inside the Iguazu Falls National Park. On the Brazil side this is Las Cataratas by Belmond and on the Argentina side it's a Sheraton.
They are both fabulous 5* luxury hotels with unparalled locations (of course!), views and facilities. Staying at one of these excellent properties gives the added advantage of being able to visit the National before or after other tourists arrive and depart. It's all the more quiet and special!
Tough Calls – Hotels & Tour Guides
If you've booked a tour with a travel agency, typically you'll be picked-up from your hotel after breakfast and brought to the Iguazu Falls National Park entrance, along with a driver and professional, English-speaking guide. As this is more of a natural wonder, some might say a guide is not necessary. On the other hand, he or she can not only give you background and history regarding the Falls, but also help you make your time there more efficient and enjoyable. They often share recommendations for the best walking routes and order of trail visits, for example.
The Argentine side of the Falls has more walkways closer to the Falls and as mentioned earlier, there is simply more to see, up-close, on this side. Therefore, you are more likely to have at least a full day tour here. This side also has a small tourist train (Eco Jungle train) which brings you to the special walkway leading across Iguazu River and over to the viewing platforms overlooking Devil's Throat. Hopefully the rains don't get too heavy, with flooding, otherwise you won't be allowed across it … for safety reasons.
Argentina v. Brazil – Iguazu Falls (Not World Cup)
The Brazil side does not have as many walkways as the Argentina side. For this reason, the organized tour of this side is usually a half-day only. Nonetheless, they do have some good viewpoints which also get you quite close to some falls. And the views are often more panoramic – offering a wider view of the Falls. Also, many say this side is better for the boat trip up the river, close to (under) the Falls – for that wetter and more visceral experience!
Click here to see a sample itinerary of a Machu Picchu, Iguazu & Rio Tour
BRAZIL SIDE OF IGUAZU FALLS – BIRDS PARK & ITAIPU DAM
For those that have the time and want to stay a bit longer, Iguazu Jungle awaits. The Birds Park (Parque das Aves) on the Brazil side offers a fabulous reception for the twitchers amongst you and is usually fun for the kids as well. Family friendly! It's set within 40 acres of sub-tropical rain forest and provides shelter for around a thousand birds (150 species), as well as butterflies and reptiles. What makes this park special? Most of the birds and animals roam and fly free – and you roam around with them! Best … photos… ever.
Then there's nearby Itiapu Dam – one of the largest dams in the world. Itaipu, which in the local language (Guarani) means "the sounding stone", produces more power and electricity than any other hydroelectricy Project in the world as of 2016 – recently overtaking China's Massive Three Gorges River Dam. It accounts for a signficant portion of the neighboring countries' energy needs – not only for Brazil, but also Paraguay (which also borders Iguazu). It helps regulate the flow of the Parana River, which also feeds the Iguazu River and its falls. If you have the time, this engineering masterwork is worth a visit. Half-day tours are available, once again, from the Brazil side.
CRUISING TO RIO, BUENOS AIRES – FLY TO IGUAZU FALLS
Cruises around the South America are becoming increasingly popular for travelers to this mysterious continent. Many of the cruise ships start or finish at the fabulous world-class cities of Buenos Aires, Argentina, and Rio, Brazil. As mentioned earlier, these two cities provide excellent connections with Iguazu, with short, non-stop direct flights, to visit its amazing Falls. If the cruise ships starts or finishes at one of these two cities, you can organize tours visiting both the cities themselves, along side Iguazu Falls – four to five days in total, before or after the cruise. A local tour operator can assist you with your luggage, after the cruise – before the departure of your international flight home. Or vice-versa. They will also take care of the transfers between the cruise port and airport, so you can simply relax and enjoy the cities and natural wonders.
COMBINE TOUR OF IGUAZU WITH VISIT TO GLACIERS, WINE
Another popular addition to an Iguazu Falls trip is a visit to Patagonia and the Argentina Glacier National Park. After a four hour flight from Buenos Aires to El Calafate, you can experience Perito Moreno – one of the only glaciers in the world that is not shrinking! Or if wine is more your thing, fly to Mendoza or Salta, with the latter city offering non-stop, direct flights to/from Iguazu airport on the Argentina side (IGR). No need to connect in Buenos Aires.