Weather – Climate
The Inca Citadel of Machu Picchu – a UNESCO World Heritage site and one of the seven man-made wonders of the world – is located in the Cuzco region of Peru. Although it has an elevation of nearly 8,000 feet (2,400 meters) above sea level, this is significantly lower than the altitude of the city of Cusco and most of the nearby Sacred Valley of the Incas. Its climate is relatively mild, with temperatures that stay above freezing but below 70 F (20 C). Precipitation is the biggest variant, with the rainy versus dry season being one of the most important factors impacting Machu Picchu's weather. During the dry season from approximately May to September, there is very little to no rain. Then, in October, it returns. The rains pick up pace in November and December, typically peaking in January and February, before starting to trail off again in April.
Tours of Machu Picchu during the rainy are just fine, especially via the classic train trip. But if you're considering trekking during those months, this can be more challenging. Hiking on muddy trails and camping on wet campgrounds is not ideal. Nonetheless, whether visiting by train or trek this time of year, you tend to be blessed with far fewer people. The rainy season has some advantages!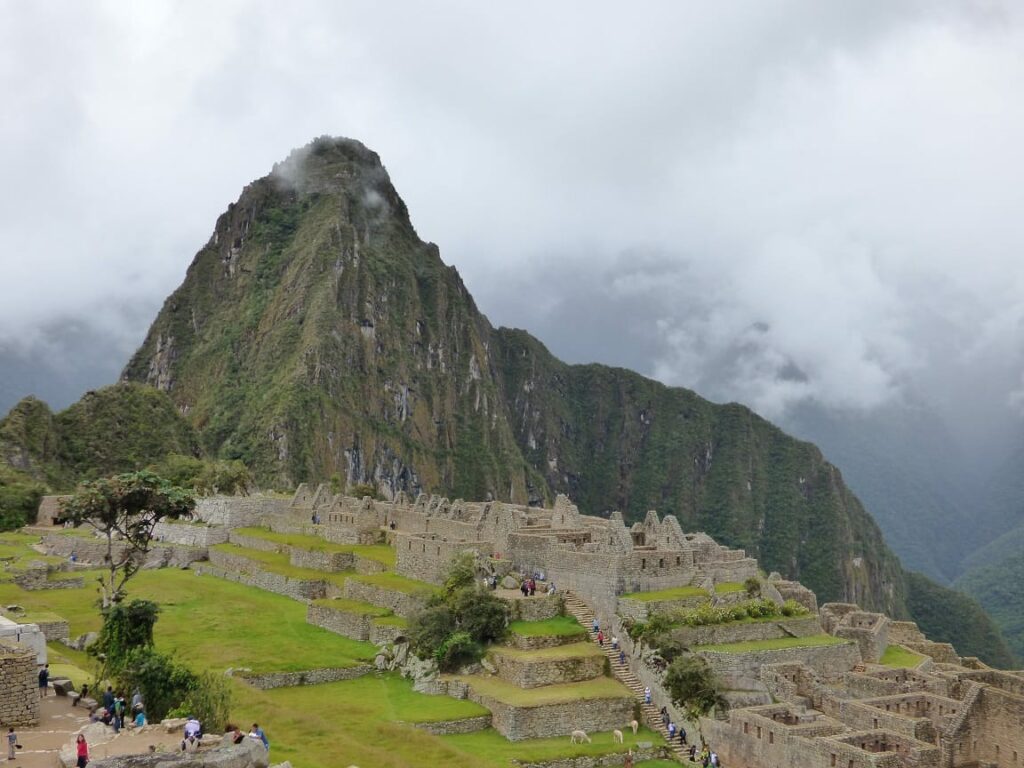 Hiram Bingham Re-discovers Lost City of the Incas
When American explorer Hiram Bingham "discovered" Machu Picchu on July 24th, 1911 with help from a local farmer, Melchor Arteaga, he thought it was the lost city of Vilcabamba, for which he had been searching. Even though that assumption stayed with him throughout his life, he deserves credit for daring to explore the continent in the first place, listening to locals, and walking up to the site in the rain, on that now historic morning, when others in his party didn't think it warranted interest. He certainly One could say he helped the world discover Machu Picchu.
1 v. 2 days, Tickets, Inca Trail & other Treks
While some of you might be trekking to Machu Picchu, many of you will be taking the train and doing a more classic tour of this special historic sanctuary. You will stay at a hotel in Cusco or in the Sacred Valley the night before, then take the train to Machu Picchu the following morning – visiting for one or two days.
To assist with the acclimatization process, after flying into Cusco airport, it is recommended to head straight out to the Sacred Valley, at a significantly lower altitude (2,900 meters or 9,514 feet) than Cusco (3400m or 11,154ft). Don't worry about missing Cusco – you'll still have the chance to explore it after visiting Machu Picchu. The trains to Machu Picchu generally start at Poroy, not far from Cusco, head into the Sacred Valley, then stop in Ollantaytambo, a small town further into the Valley. If you stay at a hotel in the Sacred Valley, you will be transferred to pick up the train in Ollanta, for the shorter (1.5-hour) train ride to Machu Picchu town (aka Aguas Calientes). And then after your Machu Picchu visit, you will take the train back to Ollanta, and probably picked up there and transferred by private vehicle back to Cusco, rather than taking the train all the way back to Poroy-Cusco. Before going to Machu Picchu, you can leave the bulk of your luggage at that hotel in the Sacred Valley and pick it up on the way back to Cusco.
Keep in mind the trains to Machu Picchu actually stop in Machu Picchu town, not next to ruins themselves. From there you'll need to take a bus (25-30 minutes) or walk up to the entrance gate (1.5-2 hours). Although walking up seems appealing on the surface, we don't recommend it because there's simply not much to see. If there were good viewpoints on the way up, it might be a decent option. But from most reports – there are not. In the interest of saving time, even with the sometimes long lines waiting for the bus to depart, default to the bus option.
Try to Get a Second Day at Machu Picchu
Is one day enough to visit Machu Picchu? Or should we stay overnight in Machu Picchu town and visit the ruins again the next day? This is a very big question indeed!
If you can organize a full day at Machu Picchu well enough, then that might be sufficient, but if you have more time, visiting over two days is recommended. This is especially true if you're traveling during the rainy season (roughly November to April). An extra day to see the Historic Sanctuary is preferable, especially in the case there happens to be poor weather conditions on one of the days. It's not just about seeing the sunrise early on the second day. Of course, this might not happen anyway. Clear mornings are never guaranteed, even during the dry season! Being up there early in the morning on the second day allows you another chance to experience the amazing views of Machu Picchu, alongside doing one of the popular side hikes (more on those later).
Machu Picchu Tickets – New Rules
Recently implemented rules (July 2017) indicate a guide is required to accompany you on your first day at Machu Picchu, but not for the second day. Yes, that's right – it appears the local tourism authorities are not allowing travelLers to explore the site on their own, without a licensed guide, for their first day visit to Machu Picchu. This should be booked in advance through your travel agent or tour operator.
These same regulations require visitors to buy a separate ticket for EITHER a morning (6am-12pm) OR afternoon (12pm-5:30pm) entrance into Machu Picchu. Although it is possible to buy two tickets for the same day, most people will probably choose one or the other. If you are planning to visit Machu Picchu for one day only, departing on the same day from your hotel in the Sacred Valley, then you will most likely have an afternoon ticket. And this is just fine. It is usually less crowded then and during the rainy season it tends to be less cloudy or foggy in the afternoon. But note you would not be able to do the side hikes up Huanya Picchu or Machu Picchu mountain.
If you are planning to visit for one day only but really want to do one of those side hikes, you'll need to stay in Machu Picchu town the night before and choose the morning entrance. But if you're planning to stay overnight and visit Machu Picchu for two days, then the choices are quite clear – afternoon entrance on the first day, morning on the second, including one of the aforementioned side hikes, if you wish. No big decisions here.
The guidelines "limit" each person or entrance to four hours on site, unless doing the side hikes, where they allow an additional two to three hours – six to seven hours in total. Good news for those visiting for one day only: early reports indicate the local authorities are being relatively flexible regarding the aforementioned separate entrance ticket times and time limits. It looks like they are allowing those who booked for the afternoon to enter a bit before noon and those who booked for the morning to stay past 12. In this case, even if you have a morning ticket only, you should be able to stay through the day – without having to buy a separate afternoon ticket.
Recommended Side Hikes
Machu Picchu Mountain & Huayna Picchu
If you are spending two days at Machu Picchu, in a hotel overnight in Machu Picchu town or at the hotel across from the ruins, then you certainly will have enough time to do one of the popular "side hikes" – Huayna Picchu or Machu Picchu Mountain. Either of these will take you three hours, on average, with the former going along steeper routes, and the latter is generally described as a bit longer and more challenging physically. The views from both are fabulous. Some people consider these hikes an essential part of their Machu Picchu experience, so leaving them out could be a disappointment. But note that for most people (even for those that are in good shape), these hikes should not be dismissed as easy. Don't underestimate them. Also, know that the guide for your primary tour of Machu Picchu does not usually join you for these hikes. You'll be on your own, but no need to worry about safety – that's fine. But if you're leaning towards a more relaxed, casual exploration of the ruins, then you might consider simply focusing your time at the main site itself.
If you do decide to go on one of them, you'll need tickets – booked ahead of time – just like for the primary entrance ticket for Machu Picchu itself. Entrances for each of these respective two side hikes are capped at 400 persons daily, spread across two time slot entrance windows. For example, at Huayna Picchu, 200 people are allowed to begin the hike between 7-8am and another 200 people can begin the hike between 10-11am. This side hike is very popular and especially for travel during peak season (northern hemisphere summer, Christmas and Easter week or Semana Santa), tickets get gobbled-up quickly. If you want to hike up Huayna Picchu, the first entrance (7-8am) is probably best, with lesser crowds. Machu Picchu Mountain is not as popular, but you still need to get tickets ahead of time.
Shorter (and Easier) Side Hike: Sun Gate
One of the more popular walks around Machu Picchu is to the Sun Gate – the entrance to Machu Picchu from (after hiking) the Inca Trail. You would simply walk it "backward" – from Machu Picchu to the Sun Gate – then back to the main site. The constantly changing views of the Machu Picchu complex can be spectacular, offering ample photo opportunities. This option offers several advantages, such as:

— No need to book in advance (no ticket required, besides normal MP entrance)
— Can do it last-minute, depending on weather and how you feel – at any point during day
— Larger trail, offering more space for stopping and enjoying the views along the way
Trekking to Machu Picchu
You will be doing some walking during your time in Peru: on tours in Machu Picchu, in Cusco, and in the Sacred Valley. And this will be at relatively high altitudes, so that might be enough for you. But some of you will want to be challenged by some proper hiking, with the chance to conquer one of the proper treks to the ancient Inca citadel. Keep in mind, you would be hiking at relatively high altitudes, even climbing to over 4,000 meters (13,000 feet) above sea level in some cases, for hours. You should be in good physical condition and build in a couple of days at significant altitude before beginning the trek. This could include some short walks, first in the Sacred Valley, then around the even higher city of Cusco, from where the tours for these treks typically depart.
Note the following is by no means a comprehensive list of the treks to Machu Picchu, nor a complete description of them. You can find entire books dedicated to the most famous option – the classic Inca Trail.
There are a couple of options here. The first is a two-day version where you hike a "final" section of the trail in one day, ending at Machu Picchu. After this trek, you would stay overnight in Machu Picchu town and do a proper tour of the ruins the following day, before heading back to the Sacred Valley or Cusco afterward on day two. But the most popular option is the 4 day/3 night version, which involves three days of hiking the entire trail and camping at night. Note local porters will carry the camping items, including tents, food, and more – and you'll only need to carry a backpack with your clothes and personal items while hiking. These porters, along with your English-speaking trekking guide, will also set-up your tent and cook you surprisingly fantastic food. Camping deluxe!
Although some "private" Inca Trail experiences are possible, they cost more and are more likely to be "semi-private" – still sharing with some people, albeit a smaller group. Most likely you will be hiking or trekking the Trail along with strangers in a group of 12-16, plus the guide and porters. Since participants are usually from a number of other countries, this can actually be a quite fun and interesting communal experience.
Be aware that the Inca Trail closes in February for annual maintenance. As this is typically the rainiest month of the year, they've made a good choice. In general, doing any trek during the heart of the rainy season in the Andes (between December and March) poses obvious challenges, from slippery slopes to wet campgrounds. The timing of your trek should be carefully considered, but the rainy season probably won't faze the heartiest of hikers out there!
Also, be advised that spaces on the Inca Trail are limited to 500 per day and that this includes porters and guides. Therefore, you really need to plan this ahead of time and get your tickets early. If this is a priority, check your planned travel dates with your agent to see if spaces are still available. They should be able to tell you how many spaces are left, but be careful – even a few hundred can disappear in a matter of days for popular dates in the months of May through August. There are even cases of certain dates being sold out on the very first day the tickets go on sale for the year! Your travel agent needs to be on the ball here.
If you are planning to combine the Inca Trail version of your Machu Picchu trip with a cruise-based Galapagos program, it is best to plan well in advance and be as flexible as possible with travel dates and the type of yachts available. Unlike the more standard train trip to Machu Picchu and a hotel-based Galapagos program, adding the Inca Trail into the mix, along with pre-determined yacht departures, makes it even trickier to fit both into a small window of travel dates. It can be a challenge to squeeze both into the same trip, but it doesn't hurt to try.
If you want more flexibility in dates, smaller or private groups, and a slightly different experience, there are two other main trek options that also end at Machu Picchu – Lares and Salkantay. Neither of these includes stops at classic Inca ruins, but each has its own special qualities.
The Lares trek is 4 days/3 nights and gets you hiking through some more local areas, with fewer crowds. In addition to some spectacular mountain scenery, you will see how some local people truly live in small villages and huts. You'll pass through some colorful weaving communities, and depending on which trek you choose to go on (there are several Lares treks!), this might include a stop at the fabulous local hot springs, with pools of hot, natural healing waters. What a fabulous and relieving way to end your hike before heading to Machu Picchu!
Salkantay is an amazingly picturesque, snow-capped mountain peak. The most common 5 day/4 night trek of this mountain also ends at Machu Picchu. As with Lares, you will be in a small group with a professional, English-speaking guide. But on this trek, pack animals (horses and mules) will carry some of the camping items, rather than porters. Don't worry, you don't have to ride or guide them yourself. As with Lares, this trek is less crowded and usually has availability, making it easier to work into your travel dates than the classic Inca Trail.
One of the highlights of this hike is getting close to the incredible Salkantay peak, but you also get to walk through cloud forests and across natural bridges. This trek has probably the most natural diversity and changes in climate. There are also some hot springs towards the end of your trip – another bonus! There is a luxury lodge alternative on this route, which stretches the portion of this trip to a full week. However, most people choose to camp, as with the Lares trek.