CLIMATE & WEATHER IN THE GALAPAGOS ISLANDS
Although travelling through the Galapagos Islands is indeed fine any time of the year, there are some differences worth noting.
The northern hemisphere summer/fall months of June to November, which coincide with the dry season in Peru, are also some of the drier months in the Galapagos. But although it does not rain as much, there is actual more fog and cloudiness. Locals often refer to it as the garua season, which is a bit cooler as well.
As the Galapagos Islands are on the equator, this can actually be a relief from the hot equatorial sun.
Although the Islands are far from the Ecuadorian mainland in the middle of the Pacific Ocean, it's not cold there. Water temperature there is between 65-75° F (18-24° C) between June and November.
That said, you might prefer renting a wetsuit for snorkelling during these months, especially if exploring the colder western islands.
Rougher, Choppier Seas from June to November
Another thing to keep in mind during these months is that the sea is rougher and choppier. People who are more susceptible to seasickness should consider traveling on a larger ship and/or take seasickness pills. Travelling during these months also might impact your snorkelling experiences since the waters are normally cloudier.
This might affect your decision whether to explore the Islands from a yacht or from a hotel on land.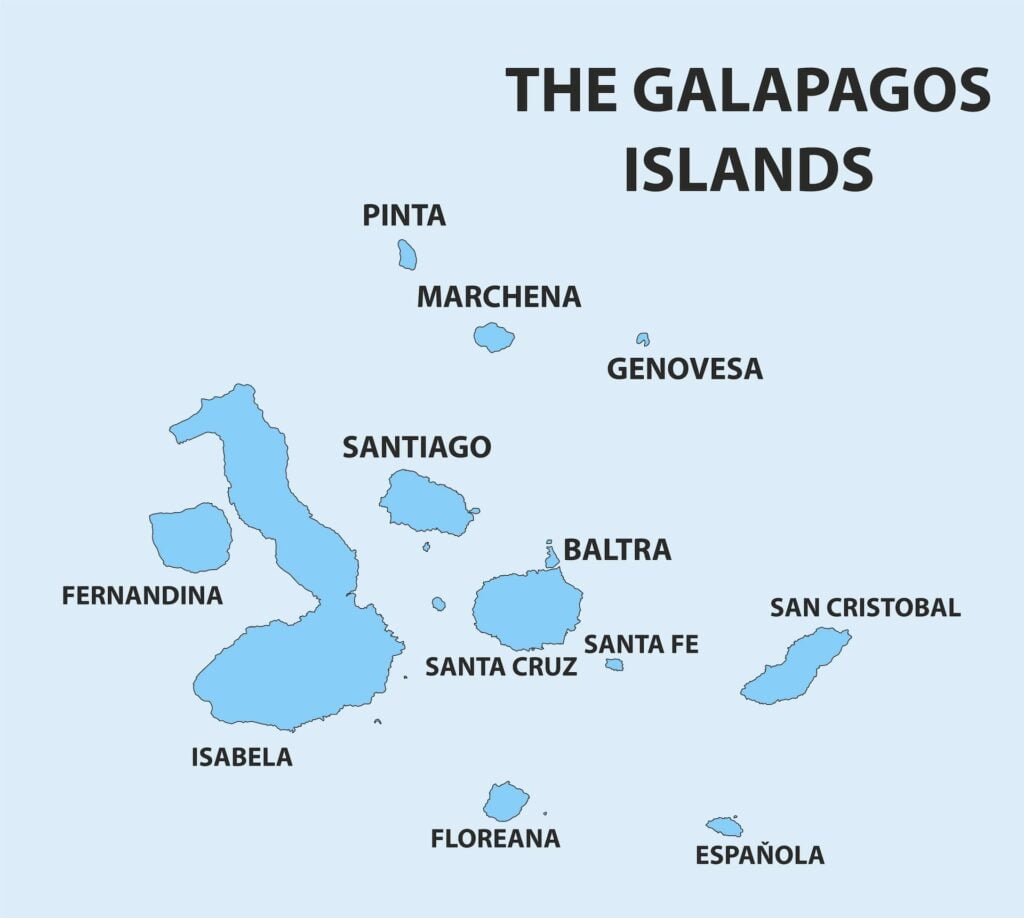 The northern winter/spring months of December through May coincide with the rainy season in Peru.
And alsothese are some of the rainier months in the Galapagos. That said, there is actually very little rainfall. Usually, it's light and quick. During these months, when it's not raining, the weather is sunnier and warmer, with bluer skies and calmer seas. Visibility also improves – on land, in the sky, and in the water. This means better snorkeling! The temperatures are indeed higher – it can get quite hot in equatorial Galapagos.
In these months, temps in the Galapagos range between 80-90° F (27-32° C), while water temps range between 70-80° F (21-26° C). And it's not just the temperature – it's the power of the sun's (UV) rays at this latitude.
WHAT GALAPAGOS ADVENTURES LOOK LIKE
Before flying to the Galapagos Islands, you will stay overnight in mainland Ecuador, in Guayaquil or Quito. The following morning you will fly on a proper jet airplane – not a twin-prop – to one of two airports on the islands, either on San Cristobal or Santa Cruz Island (Baltra close to Santa Cruz handles most of the flights).
You will then be brought to either your cruise ship or hotel (if you've chosen a land-based tour program).
There you will join your naturalist guide and the group that will accompany you on your daily tours around the islands. Note the Galapagos is actually in a different time zone than mainland Ecuador – one hour earlier.
Excursions are in small groups
Just about all tours in the Galapagos will be carried out in small groups of 12-16. Visits to most parts of the islands are strictly controlled and must be guided. You are supposed to stay close to your guide and not wander off the trail. Each day, after a typically early breakfast, you will have an excursion to one part of an Island.
There are many variations of these excursions. On one day, you might jump straight off the boat and snorkel along the edge of an Island.
On another, you might board a dinghy (motorized raft), or panga, as it's called locally, that brings you ashore to walk around and explore on island on foot with your guide. Or you might board the dinghy and head to that special snorkeling spot, where you'll hop off with your snorkel, fins, and mask and start exploring sea side.
Then it's back to the ship for lunch, and back out again in the afternoon, in the same fashion – on land or in the water. Yes, there are usually at least two excursions per day!
Finally, it's back to ship or hotel for dinner, socializing, relaxing, and sleep.
First & Last Days are Different
Note the first and final days in the Galapagos are a bit different. On the first day, you are flying out to the islands, so you will have only one excursion in the afternoon.
And on the final day, you might have a short visit to a nearby island that morning, or no visit at all and simply head back to the airport for your flight back to the mainland.
For this reason, among others, consider extending your time in the Galapagos to at least 5 days/4 nights, if possible.
The Ship – Not All Important, But…
Most of the ships are of the smaller variety that accommodates 16 passengers (some accommodate 10, 12, or 14), but there are some medium range ships that hold 36, 40, or 50 passengers and a few larger options that hold 90 or 100 passengers. Even the largest ships are not THAT big.
Although there are indeed some much larger Caribbean-style cruise liners "sailing" (spoiling?) the Galapagos, these are uncommon and usually much costlier. These cruise ships are less likely to be a locally owned, Ecuadorian-based company specializing in Ecuador and the Galapagos.
Therefore, we recommend sticking with "smaller" ships that accommodate between 16-100 people
So, generally speaking, which ships – larger or smaller – are the better option? We're not sure there's a right answer here. As there are many more smaller ships available across all classes, you're more likely to find a good option there.
Also, many people like the intimacy of a smaller ship, and that's fine. Plus getting to and from the islands is a bit quicker and easier. Keep an eye out for some smaller ships that tend to have better guide-to-passenger ratios. The rule is one guide to 16 passengers.
If you have any number less than 16, it's still one guide. And if it's 17, now a second guide is required. The latter can come into play on some 20-passenger ships. That's something worth exploring with your travel agent.
That said, even on a larger ship, you might luck out and be assigned to a group with a more favorable guide-to-passenger ratio, for example, only 10-12 people in your group exploring the islands together with one guide, instead of the standard 16 people per guide.
Every little bit helps! Larger ships of course also have a bit more space to move around, especially in social areas, and often have larger cabins. Cabins on ships in the Galapagos can be quite small.
But don't larger ships restrict you from visiting certain parts of the islands? No! This is a common misconception. They simply anchor a bit further off shore and take a bit more time to load and unload everyone onto the pangas (zodiacs). But the small ships are not sneaking in front of the big ships and taking up their touring space!
To minimize tourism impact, the Galapagos National Park schedules the yachts and programs in a way that avoids groups crossing over each other, as much as possible of course. No system is perfect – you will see other ships and fellow tourists walking the islands along with you, but don't worry, it should not be overrun. In fact, if two ships are near the same part of an Island at the same time, the guides of the respective ships usually communicate with each other and organize the excursion to minimize cross-over.
Larger ships have some advantages:
They can help mitigate the potential effects of seasickness
They're at least first-class – might cost a bit more,but ensures a good experience
They have more space – typically larger cabins and social, common areas
On them you can be a bit more anonymous or socialize with different groups of people
More cabins = more availability – in case you book and others want to join later
While fans of the smaller ship option might counter with:
Tend to have a more intimate, interactive experience with guide, crew and fellow passengers
Takes less time unloading boat for island and snorkeling excursions
More flexibility with potential last-minute excursion changes due to weather/sea conditions
Wider range of options to choose from – dates and class of service (this is big!)