Patagonia – What, Where and When?
You heard that Patagonia is amazing, but are not sure when is best and how best to get there? Perhaps you heard about the Paine Towers (Torres del Paine) in southern Chile or the Perito Moreno Glacier, across the Patagonian steppes, in Argentina. It is a massive region, covering approximately 400,000 square miles and includes destinations such as Puerto Varas, Chiloe, Punta Arenas and Torres del Paine, in Chile, and Puerto Madryn, Bariloche, El Calafate, El Chalten and Ushuaia, in Argentina. When talking about Patagonia, we need to be more specific!
Its seasons are roughly the opposite of those in North America. Best known for its majestic mountains and glaciers, and for some of the best hiking and trekking in the world, the relatively warmer austral summer months from November to April are typically best for visiting. Keep in mind, Patagonia is spacious, expansive and very windy. The more desolate austral winter months from June to September bring not only less people, lower temperatures and prices, but also lesser winds. Many prefer to travel during the shoulder months of October and (late) April.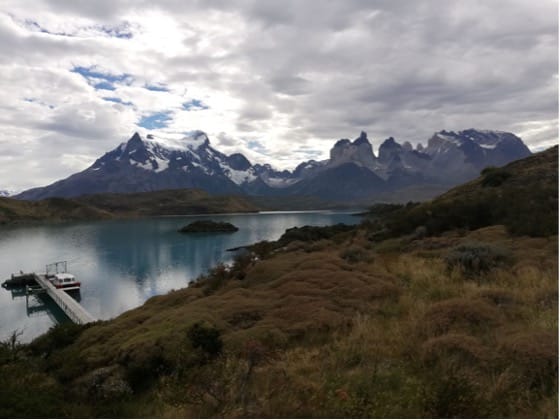 Torres del Paine & the Perito Moreno Glacier
Perhaps the two best known of this region's gems are the Torres del Paine National Park, in Chile and Argentina's Glacier National Park, where you can see Perito Moreno – one of the few non-retreating glaciers in the world. It is also unique for the proximity of the walkways, which allow one to experience it up-close and personal. From a boat or on foot, the sounds can be even more stunning than the sights!
In Torres del Paine there are first-class and luxury lodges from which you can explore its many picturesque mountains, lakes and valleys. Full or half day excursions are organized from the lodges each day – you can reserve ahead of time or simply choose on arrival. You will see families of guanacos and if you're lucky, the elusive puma. And keep eyes out for the elusive Andean Condor.
Well-connected logistically, the lodges in Torres del Paine and hotels in El Calafate provide the approximately five hour land transfer from one to the other. You can start your Patagonia trip on the Argentina side, by flying from Buenos Aires to El Calafate, or from the Chilean side, flying from Santiago to Punta Arenas. Then it's a five hour transfer to Torres del Paine.
Or you can stay a night or two in Punta Arenas and organize a Magellanic penguin tour to Isla Magdalena. Patagonia cruises also depart from Punta Arenas, for 4 or 5 days, on their way across the most southerly tips of the continent, to Ushuaia (Argentina). If you can't make it up to Puerto Madryn, this might be your best bet for capturing marine wildlife on camera!